Embark on a seamless real estate adventure as you explore the process of buying a home and moving to your idyllic mountain paradise. As your dedicated Breckenridge realtor I am committed to making the transition effortless for you, offering a diverse range of prime mountain properties, from historic downtown to the majesty of its five awe-inspiring peaks.
Whether seeking a luxurious slope-side condo or a cozy retreat, our curated property selecfion caters to your lifestyle preferences, showcasing the best of both mountains and Main Street Breckenridge. 
Discover the ease of moving to and buying a home in this vibrant community, where you can indulge in fine dining, immerse yourself in the lively nightlife, explore the thriving arts scene, conquer the ski slopes, embark on picturesque hikes, or spend the day fishing.
Navigating the real estate market has never been simpler, with our extensive portfolio featuring professional photographs and virtual tours for all homes, condo, and penthouses. As you browse through our listings, you'll uncover the unique allure of each property, simplifying your journey of moving to and buying homes in enchanting town of Breckenridge.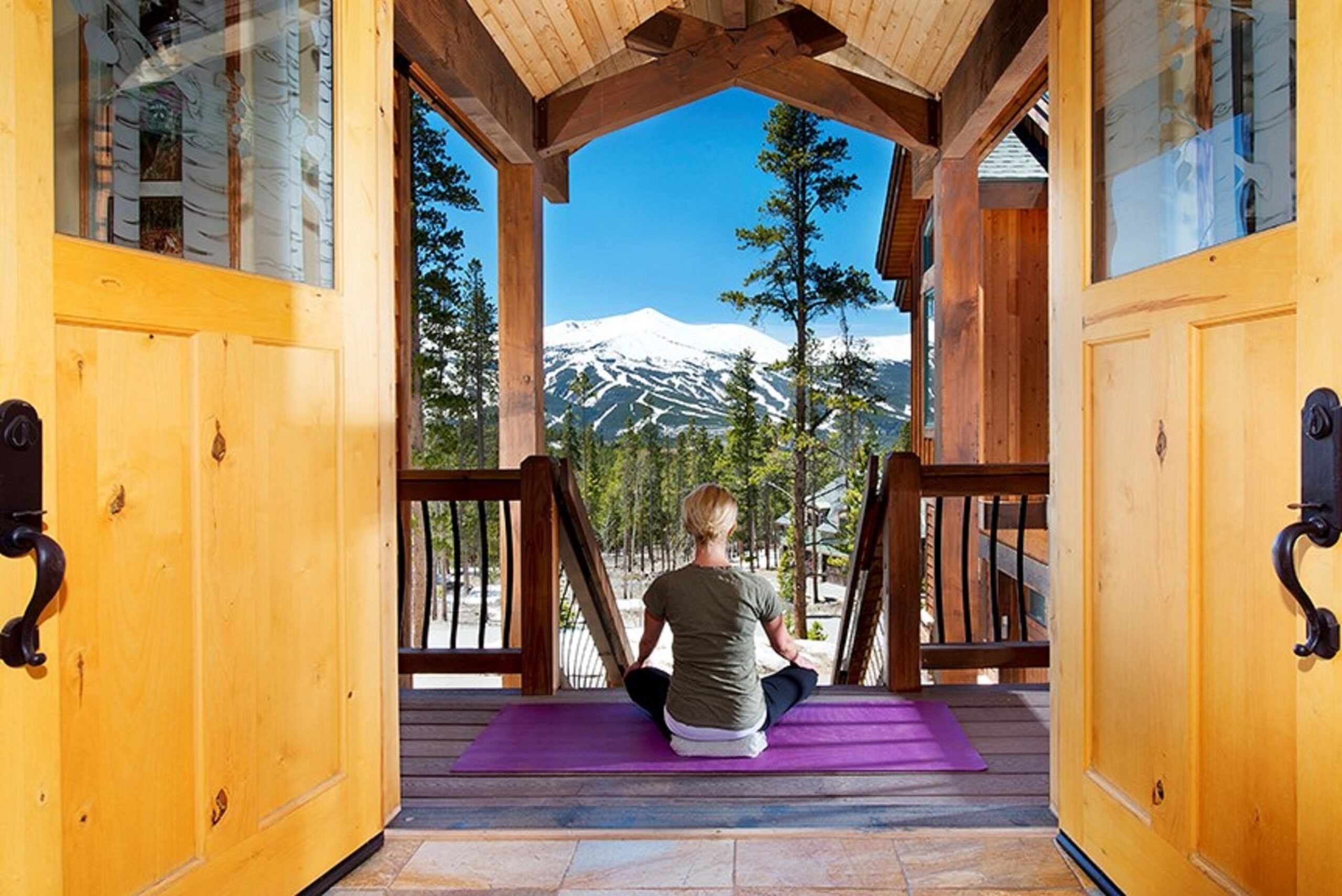 Locate A Home in Breckenridge
Unlocking the perfect home starts with finding the right neighborhood. But, don't worry, you're not alone in this journey! I'm Jan Leopold, your local realtor, here to help you navigate the ins and outs of Breckenridge and its surrounding locations. Check out these community resources on the schools, businesses, events, weather, and transportation options that make each area unique.
Reach out to me, Jan Leopold, and together, we'll embark on a journey to transform your dreams into the extraordinary life you've always desired!
Jan's knowledge of the Summit County real estate market is excellent!
We've worked with Jan over the past 10 years, buying and selling a property. Her knowledge of the Summit County real estate market is excellent. She is very responsive to the needs of her clients and keeps you abreast of all pertinent details. Her client-centered style makes the transaction process stress-free. We enjoyed working with her and would recommend her to anyone interested in the Summit County area.
Jan is my Realtor! She is Awesome!
Jan is my Realtor because she is a real person that listens and worked for my family to find us a nice Condo in Breckenridge!! Jan also follows up with service after the sale and even ran an errand for me on New Year's Eve!! She is Awesome and I will call her when I am ready to move up to another property.
Best Real Estate Agent in Summit County!
Best Real Estate Agent in Summit County! Jan's easygoing personality and Summit County experience are her strengths. Her attention to detail, follow-up, and knowledge on how to handle any issue sets her apart from other agents allowing a stress-free closing.
Jan Leopold has been proudly serving the Breckenridge real estate community since 2000, striving to be the best realtor any seller or buyer has ever worked with.
When you work with us, you receive an ELEVATED real estate experience in your real estate journey with


Guidance through the complexities of the local short-term rental regulations to maximize rental income.
Ongoing support in negotiations throughout the entire real estate process, from initial consultation to closing and beyond.
Local market research and analysis to assist you in making informed decisions.
Recommendations from our local network of lenders, inspectors, appraisers, stagers, construction services, property management, etc.
 Invest your money, time, and energy in promoting and selling your home.
Jan and her team are ambassadors for Breckenridge by supporting local charities focused on family welfare, youth, development, and the preservation of the environment. Staying connected with the local community, we frequently offer services at various events and organizations while enjoying the mountain lifestyle.
Buying and selling a home varies from place to place; you need a local source of current information. Jan and her team would be privileged to provide our expertise and guidance.
Summit County Real Estate Blog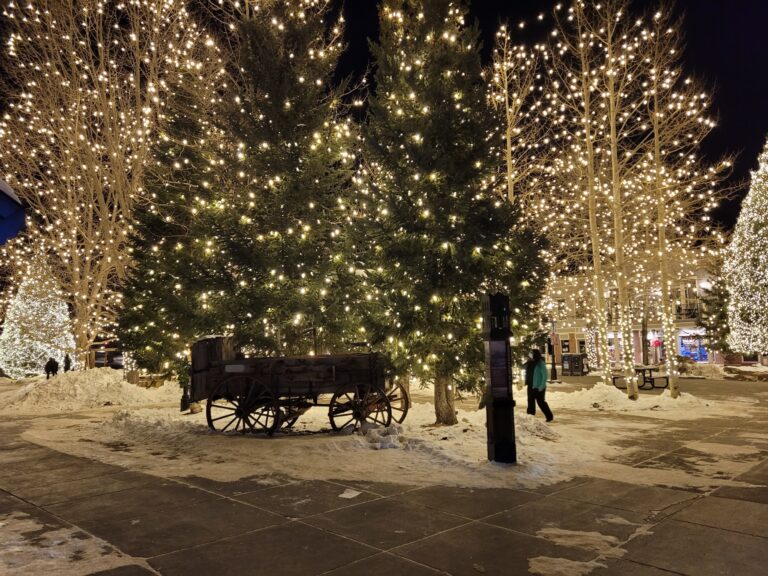 Lifestyle
As winter's chill settles in, Breckenridge, Colorado, transforms into a magical wonderland, beckoning visitors from near and far to experience the holidays in a picture-perfect setting. Join me as we explore the enchanting holiday spirit that blankets this charming mountain town.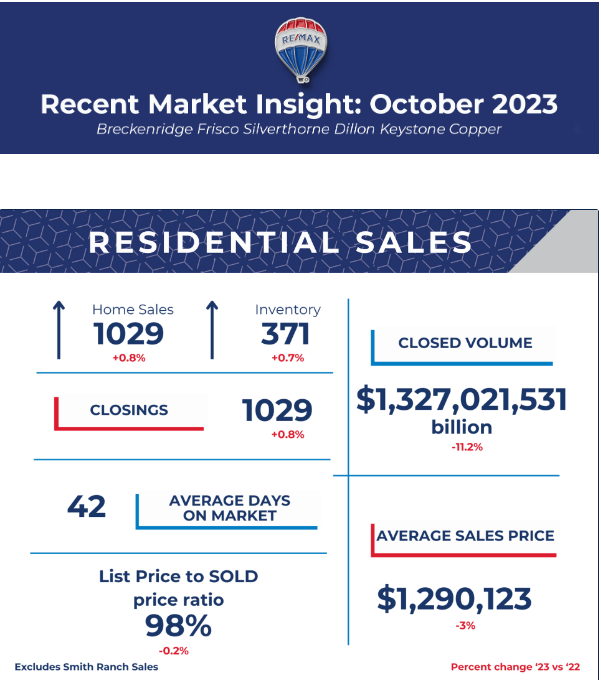 Market Report
October 2023 Summit County Stats Report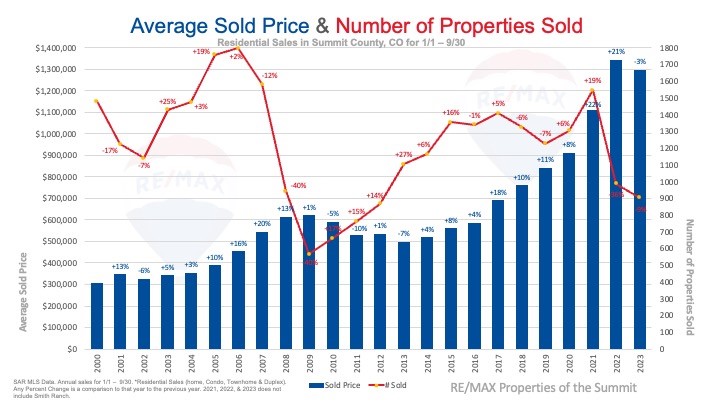 Market Report
Resort Real Estate Stats: September 2023 Breckenridge Frisco Silverthorne Dillon Keystone Copper Residential Sales Residential Sales The chart above represents year-to-date sales through September going back to 2000. The chart shows the average residential sold price