Frisco – Where Adventure Meets History and Charm
Surrounded by the Arapahoe National Forest and bordered by the shores of Lake Dillon, Frisco is a charming town located in Summit County, Colorado. Not only is Frisco a popular tourist destination, but it also makes the perfect location to enjoy Summit County living.
Frisco is enveloped by breathtaking views of the peaks and plenty of outdoor recreation opportunities. In addition, it is a hub for skiing and snowboarding, with several ski resorts in the area. The town is also the epicenter of lively summer festivals and home to a great bike path system. From a wide array of shopping, dining, and entertainment options to beautiful mountain scenery, a small-town atmosphere, and unique history, Frisco is an excellent choice for year-round living.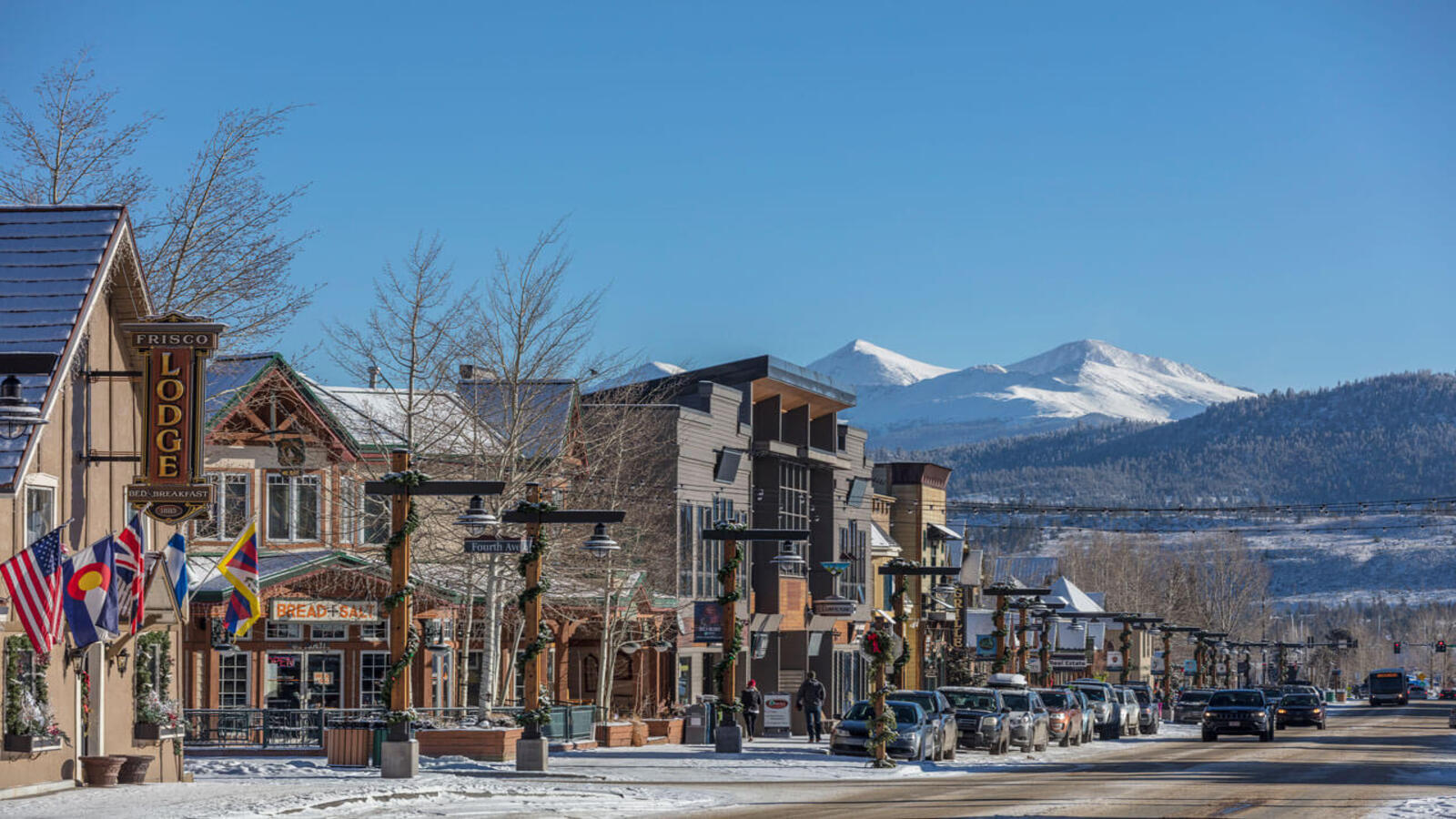 Resting in Summit County, Colorado, Frisco features a unique blend of scenic beauty and modern amenities that make it a great place to call home. To begin with, the town is home to a myriad of neighborhoods with different housing styles–ranging from traditional single-family homes to modern condominiums and townhouses. A few notable communities include Meadow Creek, Lakepoint, and Bill's Ranch.
Lakepoint is a unique neighborhood that borders the Denver Water Board property. The condominiums, townhomes, and duplexes in this community feature stunning lake and mountain views and are a huge draw for potential homebuyers. Bill's Ranch nestles in the mountains yet is a short walk away from Main Street. The historic enclave holds large lots that can be as expansive as two acres. Most of the homes in this area have newer construction and might be priced as high as $3 million. Finally, Meadow Creek is a walkable neighborhood home to around 4000 residents. Single-family homes, duplexes, condominiums, and multifamily properties are plenty in this community, with most comfortably set in green spaces.
All neighborhoods are safe, and well-maintained, providing great views of the surrounding mountains. Many of the homes in Frisco are newly built or have been recently renovated, providing potential homebuyers with a range of options to choose from.
Frisco has a great selection of amenities, including shops, restaurants, parks, and outdoor recreation opportunities. The town is a hub for skiing and snowboarding, with several nearby ski resorts. Additionally, Frisco has a thriving arts and culture scene, with regular events and festivals taking place throughout the year.
For history buffs, Frisco is a treasure trove of mining heritage dating back to the 1800s. Take a tour of the Frisco Historic Park and Museum, where you can learn about the town's past and see restored buildings from the 1800s and early 1900s. You can also visit the Frisco Peninsula, a popular spot for gold panning during the town's mining days.
Frisco's downtown is a charming mix of old and new. Stroll through the streets, and you'll find a variety of shops, cafes, and restaurants. Take a break from your day and enjoy a hot drink or a delicious meal at one of the many local cafes. The town also has art galleries, bookstores, and a distillery.
A top reason why a lot of people move to Frisco is because of its strong education system. The town has several public schools that are part of the Summit School District and are known for their high academic standards and dedicated teachers. In addition, the district offers a range of programs and services to support student learning and growth, including advanced courses, technology programs, and extracurricular activities.
Alongside public schools, Frisco also has several private schools. These schools offer a more personalized education experience and often have smaller class sizes.
Higher education opportunities in Frisco are offered by Colorado Mountain College, a two-year institution offering a range of programs and courses, including business, computer science, and environmental studies.
Frisco residents enjoy a typical mountain climate characterized by four distinct seasons. Winters are cold and snowy while summers are mild and sunny, and on average, there are 241 sunny days in the town.
In summer, the temperature averages 75 degrees, and the town becomes a hub of outdoor activities, such as hiking, fishing, and camping. The warm weather makes it a great time to enjoy Frisco's many parks and outdoor spaces. During winter, the temperature drops to 4 degrees, and the town gets an average of around 159 inches of snow each year, making it a popular destination for skiing, snowboarding, snowshoeing, and ice skating.
Public Transportation in Frisco
Frisco residents are served by Summit Stage, a free public bus service that operates in Summit County, including Frisco. The bus service provides convenient transportation to nearby towns, ski resorts, and other attractions. In addition, the buses are equipped with bike racks, making it easy for residents to combine cycling with public transportation.
Frisco is a charming town that offers a range of opportunities for outdoor recreation, education, and career growth. The town features a beautiful mountain setting that offer breathtaking views, and ample entertainment opportunities, including skiing, snowboarding, fishing, hiking, and camping. The schools in the area are great and focus on children's personal development. Add to this the convenient access that the town offers to parks, hospitals, schools, playgrounds, hiking trails, and its own adventure park, there is no reason why you should wait to begin your Frisco home hunt.